Life without social interactions is unimaginable – and global festivals are dynamic ways for like-minded souls to gather for a common purpose. Whether it is cherishing art and culture, understanding certain indigenous practices, or lobbying for a social cause, these international events allow individuals to cherish universal oneness that transcends race, creed, religion, nationality, gender, and every other such classification.

Every December, countries from across the globe organize various festivals with different underlying purposes, inviting enthusiasts from different corners of the world. So, end your year on an incredibly pleasant note by renting a private jet to these international festivals this December:
La Feria de Cali – Cali, Columbia

Image source: Wikivoyage

If you are a dance aficionado with a particular inclination towards salsa, this festival is for you. Held from December 25th to 30th in Cali, La Feria de Cali is regarded as one of the most awaited annual salsa festivals worldwide. Started in 1957, this festival brings together over two million patrons from all over the world, who unite to celebrate the sheer pleasure of dancing. The festival also organizes activities showcasing the Afro-Colombian culture and its rich heritage, increasing the splendour of this event. So, book your tickets and rent a private plane to Cali this December to witness this exuberant symphony!
Hogmanay – Edinburgh, Scotland

Image source: Stoke Travel
"Hogmanay" literally means "last day of the old year" and involves a host of activities related to the erstwhile Vikings traditions. Delicacies like fruit cake and shortbread are customarily served to visitors; these preparations are washed down by the classic Scotch whisky. Moreover, the first footing tradition, based on the belief that the first person to cross a house's threshold after midnight is likely to bring good fortune to its inhabitants, is synonymous with this exuberant festival. Celebrate with epicurean delights, fireworks, fun-filled Scottish customs, and interactions with locals and tourists at the iconic Hogmanay festival on New Year's eve in Edinburgh.
Chichibu Night Festival – Chichibu, Japan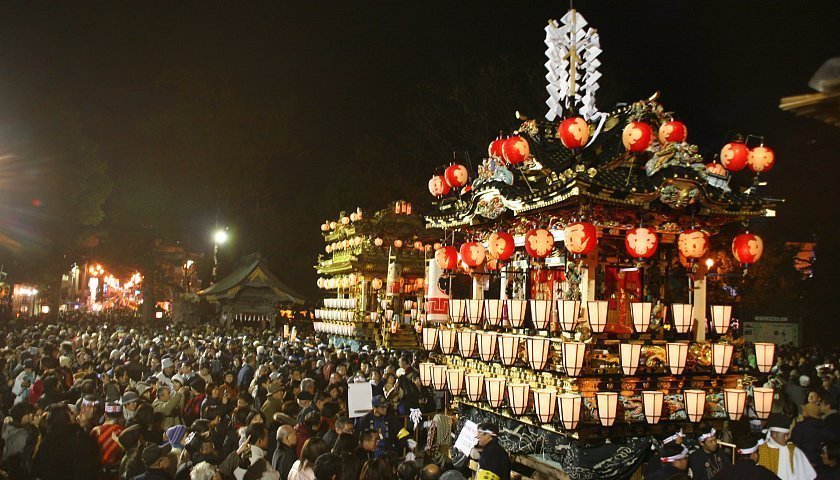 Image source: Japan Guide
Chichibu, a picturesque city ensconced in nature, is the perfect getaway at close proximity to the nation's bustling capital, Tokyo. Held every year on December 2nd and 3rd, this festival, organized primarily at the Chichibu Shrine, involves the aesthetic decoration of floats with lanterns, wood carvings, and tapestries and is accompanied by flute and drum music. Its spectacular fireworks display is another of its attractive features one shouldn't miss.
Burning of the Clocks – Brighton, UK

Image source: The Argus
This winter solstice festival held in Brighton is popular for its lantern-bearing tradition, wherein attendees carry hand-made paper clock lanterns across the city and ultimately burn them on the beach in a huge bonfire. Characterized by vibrant music, costumes, and fireworks, this unique festival is perfect for individuals intrigued by unique customs and traditions.
Rann Utsav – Kutch, India

Image source: Flickr
The Rann Utsav, or the annual cultural festival in the Rann of Kutch, Gujarat, India, is held for approximately 100 days at the end of each year. Synonymous with music, dance, vibrant traditional costumes, decked up camels, and ethnic designs, it is organized at different places within this desert region. The classic folk music and dance performances against the backdrop of a spectacular moonlit landscape steal the hearts of Indian and international tourists alike. This December is the ideal time to rent a private jet to the Rann Utsav and celebrate Kutch's cultural heritage in all its glory.
Al Dhafra Festival – Abu Dhabi, UAE

Image source: GCC Business News
A spectacular feel of the Bedouin lifestyle is just what you can expect at Abu Dhabi's annual Al Dhafra Festival, hosted by Abu Dhabi's Crown Prince and the Deputy Commander-in-Chief of the UAE Armed Forces. Held on the edge of the Empty Quarter desert, the festival involves a spectacular show of dressed-up camels, incorporating activities like races and beauty contests. The festival is all set to take place from October 21st, 2023 to February 8th, 2024 in Abu Dhabi, so book your charter flights accordingly!
New Year Celebrations – Rio de Janeiro, Brazil

Image source: Trip Brazil
Rio de Janeiro is known to host New Year parties that are among the most large-scale and spectacular ones in the world. While New Year's eve is celebrated in various places within the city, the one at Copacabana Beach is unparalleled for sure. While at this party, remember that the dress code is white and nothing but it. Also, it helps to stay put slightly farther away from the beach to avoid all the deafening noise of the New Year celebrations. You can also book a table at the beach kiosk and enjoy a pleasant evening with some delectable food and drinks. If you are a party animal, your best bet is to fly by private jet to Rio de Janeiro this New Year's eve.
December is a month of winters and snowfalls, Santa and merrymaking, not to forget celebrating the last leg of the year and ending it on a cheerful note. However, amidst the large crowds gathered at most public events during this time, securing tickets to such festivals may be a hassle. Private planes are your solutions to a peaceful, luxurious experience away from hustle and bustle at the airport and within the flight. Here's why you should pick from BookMyCharters' vast fleet of aircraft and fly private to these global festivals this December:
Assured 100% privacy on board
Quick, guided airport check-ins
Ability to land at cities and towns with no commercial airports
Flexibility to fly as per your convenience, with the flight waiting for you
Highly customized meals and beverages on board
Option to pick your mode of entertainment on board
Connect with us today to book your charter and get instant quotes on renting private jets.